The EDGE Hybrid is the very latest development from the UK's number 1 brand, taking us one step further on our continued mission: Improving worldwide wellbeing through next generation innovation. Read on to learn everything you need to know about this revolutionary new device and what it can offer.
What is the HYBRID Vape Device?
Born of consumer demand, the EDGE Hybrid has been painstakingly developed to combat challenges facing consumers and bridge a significant gap in the market; bringing together the best elements of vaping alongside a familiar filter tip and innovative patented technologies, to deliver a truly revolutionary user experience.
Research has shown that that 60% of smokers want to quit, but 37% of those who have tried vaping dislike the hard, unfamiliar mouthpiece with others criticising the mess involved in switching coils or flavours. (YouGov 2019/20)
The ultra-fine microfiber Hybrid Filter tips create a unique draw resistance and feel that brings vaping closer to smoking than ever before; offering users an authentic experience, without the harmful effects of heating or burning tobacco. Featuring an integrated menthol crushball which, when popped, infuses your chosen Hybrid pod flavour with a refreshingly cool menthol burst for a truly versatile vape. The Hybrid comes complete with a protective cap to shield the filter when not in use or to serve as an optional mouthpiece should a Filter not be available. The protective cap has been specially designed to replicate the draw resistance of the filter itself, helping to ensure user satisfaction at all times.
The sleek and compact body has been meticulously refined to craft the ultimate harmony of form and function. Completed with a premium rubber-oil finish for a tactile soft-touch hand-feel, ergonomic sculpting and flashes of artistic beauty, the Hybrid offers aesthetic charm alongside technological innovation. Draw-activation allows for a sleek, button-free interface while the smart LED display communicates clearly with the user to grant enhanced control over their vaping experience, and the robust 830mAh battery can be charged to full in only 2 hours, with enough power to sustain all-day-vaping.

Battery capacity: 830mAh

Charging time: 2 hrs

Charged via USB-C

Charging with: 5v / 500mAh

Power Output: 10W

Dimensions: 26.7*19.3*130mm(150mm with protective cap)
Hybrid's unique closed-seal pods are pre-filled to 1.5ml with a selection delicious vape liquids in a range of nicotine strengths to satisfy all tastes. Designed to be leak-free and simple to use, Hybrid pods are uniquely sculpted with ergonomic wings for effortless maintenance, allowing the user to change flavours or replace an empty pod in mere seconds.
Hybrid pods deliver boldly satisfying flavours, perfectly complemented by the optional menthol burst offered by the integrated Hybrid menthol crushball.
Available in three of our award-winning flavours: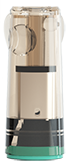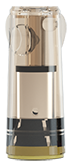 Very Menthol
Our all-time best-selling blend with a double-shot of refreshing ice cool menthol, brought to life with a feisty twist of peppermint.
Blackcurrant
A tantalising profile bursting with sumptuously rich and tangy blackcurrant flavour.
Tobacco
A perfectly balanced interweaving of light and dark tobacco notes for a bold and delectably moreish experience.
Available in 12 & 18mg nicotine strengths

Pod capacity: 1.5ml

Coil Resistance: 0.8 ohm

Coil Material: Cotton/Ni-Cr (Nickel-Chrome) alloy
The Hybrid has been designed with effortless operation in mind, upon unboxing your device, follow these simple steps to get started on your Hybrid journey:
Take the first half of your EDGE Hybrid device and load your chosen nicotine pod by inserting it into the cavity contact-point first, pushing down gently until secure

Align the two magnetic halves until they click into place, ensuring that the device is fully secured

Insert your EDGE Hybrid Filter Tip into the mouthpiece until the bottom-most line is level with the top of the device

EDGE Hybrid features a draw-activated mechanism - simply put the filter to your mouth and inhale to deliver a satisfying mouth-to-lung hit

For an optional burst of cool menthol, squeeze the filter tip approximately 20mm from the base until the crushball pops

The robust 830mAh battery has the power to keep you vaping all day and can be fully charged via USB-C in just 2 hours.

Once your Hybrid Filter starts to feel soft or your nicotine pod is getting empty, both can be easily removed, disposed of responsibly and replaced in seconds, ideal whether on-the-go or at home.
What's in my HYBRID Starter Kit?
The Hybrid has been designed with effortless operation in mind, upon unboxing your device, follow these simple steps to get started on your Hybrid journey:
starter kits contain everything you need to begin your Hybrid journey with confidence.
Our kits contain:
3x Hybrid Pods in all three flavours: 1 x Very Menthol, 1 x Blackcurrant & 1 x Tobacco

9x Hybrid menthol crushball filters

1x Hybrid vape device

1x USB-C charging cable
This comprehensive kit provides you with all the tools to experiment and discover your perfect Hybrid set-up, so you can get started on your vaping journey the right way.
This is not a Cigarette

EDGE HYBRID
Use left/right arrows to navigate the slideshow or swipe left/right if using a mobile device