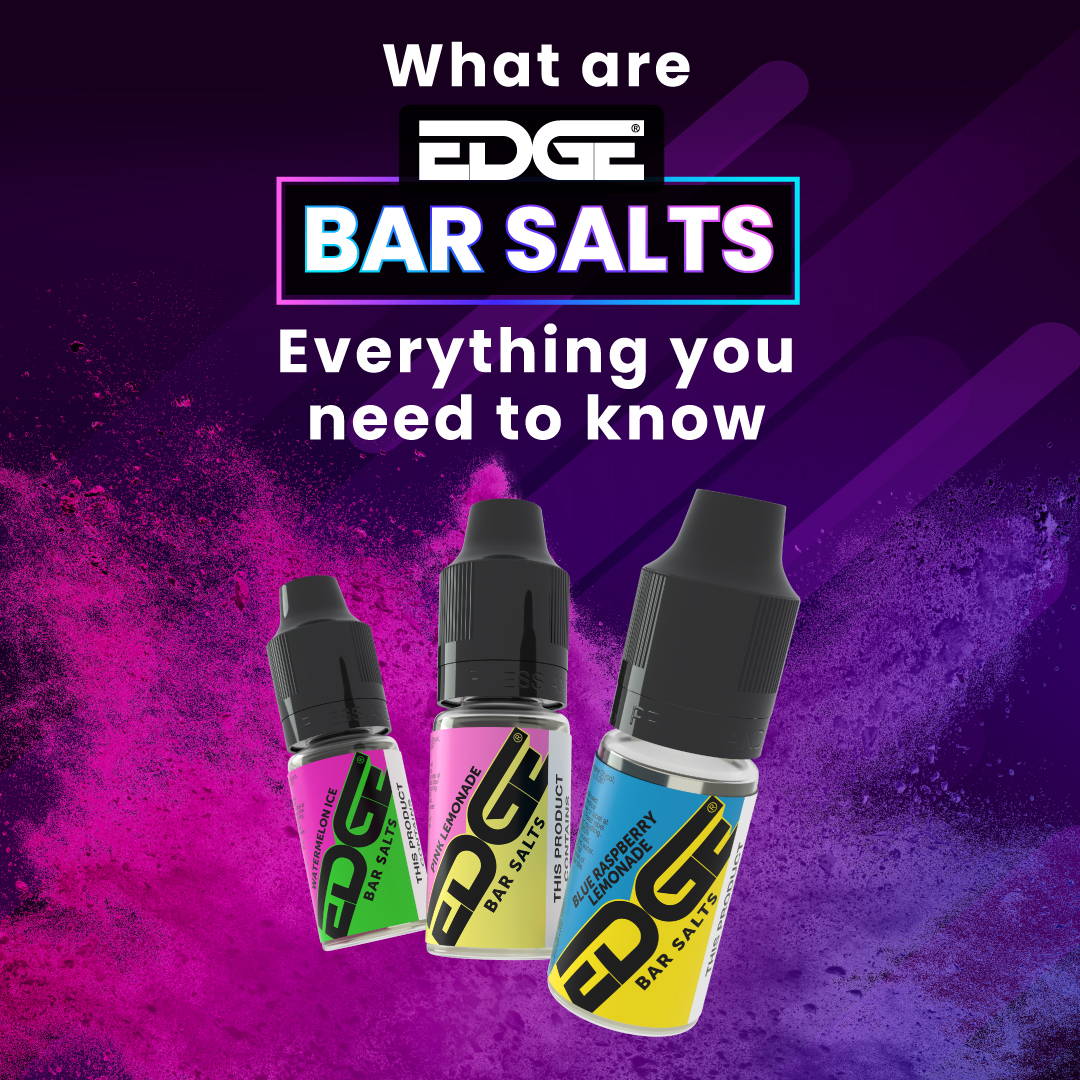 The EDGE Bar Salt e-liquid collection is designed to be your perfect alternative to disposable vape bars like SKE Crystal, Elf Bar, Geek bar, or Elux. They deliver a bold flavour hit thanks to double concentrated flavourings and deeply satisfying nicotine doses without a harsh throat hit thanks to our smooth nic salt formula.
Our range replicates the most popular modern vape flavour profiles, and with over 30 to choose from you are sure to find a favourite. At only £3.50 per bottle, our bar salts are cheaper than the competition, but don't skimp on quality – all our e-liquids are blended with the safety and satisfaction of your customers in mind.
These increasingly popular bar juice blends come in 4 tapered nicotine strengths: 5mg (0.5%), 10mg (1.0%), 15mg (1.5%) (exclusively to our business customers), and 20mg (2.0%).
Why vapers want bar salts
56% of disposable vapers want to reduce their nicotine strength, but single-use vapes rarely accommodate this, being available in only 20mg.
EDGE Bar Salts offer four strength options: 20mg (2%), 15mg (1.5%) and 10mg (1%) and 5mg (0.5%). This gives you the freedom of choice you crave and allows you to reduce their intake.
Headlines have been dominated by negative news about disposable vapes since they first arrived on UK shelves, from youth vaping struggles to a potential environmental crisis, and more recently evidence that even SKUs sold by major multiples do not comply with TPD/TRPR regulations. This has created the perfect storm of consumer confidence reaching unprecedented lows – If you are among them and are looking for an alternative, and bar salts are their best option.
EDGE Bar Salts are manufactured here in the UK, and are held to rigorous safety standards – meaning they are an option you rcan actually trust.
Vapers are ditching disposables in favour of Bar Salts
In response to the challenges created by disposable vapes, the Prime Minister announced plans for a total ban on their sale which may take effect by the end of the year (2023).
33% of vapers say they would turn to vape liquids if this were to happen – That's where Bar Salts come in!
Bar salts are 8x cheaper than disposables by e-liquid volume, and people are waking up to this fact in the wake of cost-of-living challenges.
Not only This but when you combine bar salts with a refillable vaping device you will be reducing the amount of vape-waste you produce!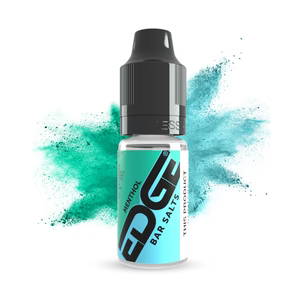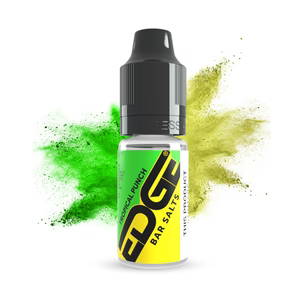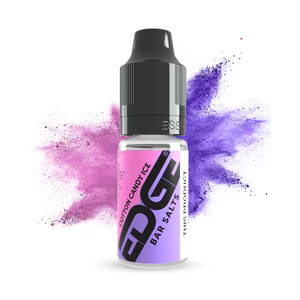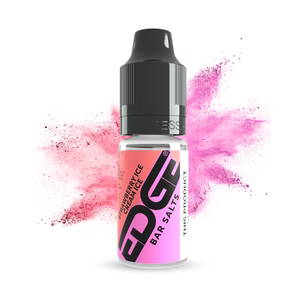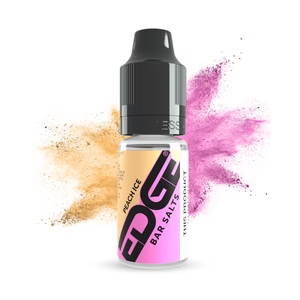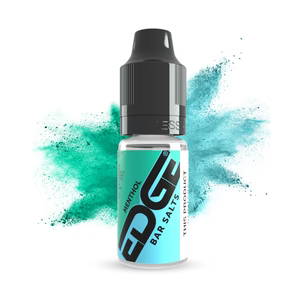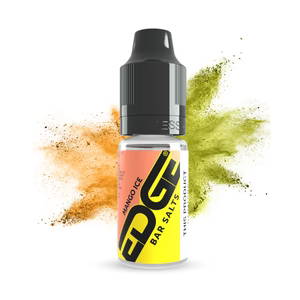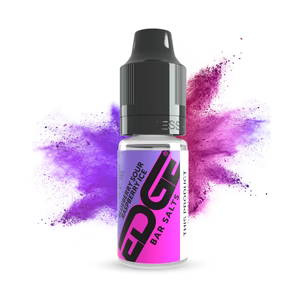 Frequently Asked Questions
Bar salts are nic salt e-liquids blended to replicate the experience offered by disposable vapes. They use premium double concentrated flavourings matching the best-selling profiles of all leading disposable vape bars, paired with smooth nicotine salicylate (our chosen nic salt formula) to deliver high strength satisfaction without a harsh throat hit.
Why are bar salts more expensive?
Bar salts utilise double concentrated flavourings carefully developed to taste more premium while being at the peak of modern safety standards. Our nic salt formula has been rigorously tested to ensure it delivers a consistently high quality, smooth vaping experience at all strengths without impacting the flavours you love – all this quality and satisfaction can be yours for just £3.50, less than most other leading nic salt brands.
What is the difference between a bar salt and a nic salt?
Nic salt e-liquids utilise traditional style flavours like those found in our other ranges. They are delicious, but less bold than modern bar salt flavours which are double concentrated to give you a more intense flavour hit.
Both bar and nic salt vape juices contain nicotine salts, which have a neutral taste – this is why they can be vaped at higher strengths without delivering the kind of throat hit a high strength freebase e-liquid would typically have. Bar salts are a modern e-liquid style designed to be a great alternative to disposable vapes, whereas traditional nic salts are an older product type with less intense flavour.
Do bar salts contain more nicotine?
Bar salts only are available in 5mg, 10mg, 15mg and 20mg nicotine strengths. Our core range of freebase 50-50 juices only go as high as 18mg – meaning the 20mg bar salt option contains more nicotine than our freebase options. The 5mg and 10mg variants however do not. Nic salts absorb faster than freebase however so take note as you may feel a hit sooner than you expect if trying them for the first time.
It can feel as though bar salts contain more nicotine because of the higher impact nicotine salt has on your body – it absorbs faster and satisfies cravings for longer but does not actually contain any more nicotine than other liquids.
What is the PG/VG Ratio of bar salts?
Our bar salts use the same 50-50 PG/VG ratio as our other 10ml freebase flavours; however they utilise even more premium flavour concentrates, and an extra-smooth nic salt formula.
What's the difference between a bar salt and a disposable vape?
Bar salts taste just like the juice in your favourite disposable vape, but they are in a free-pour 10ml bottle. This means unlike disposable vapes which cost circa £6 and contain only 2ml of e-liquid, you can now get 10ml of nic salt vape juice for only £2 – plus you can put them in a device of your choosing! This means you aren't adding to the environmental problems surrounding disposables.
What nicotine strengths are bar salts available in?
Our bar salts range is available in 5mg, 10mg, 15mg, and 20mg nic salt strengths to give you more choice when managing your cravings or nicotine intake. If your chosen flavour isn't available in all three strengths yet, check back soon – we are working on getting all flavours available in all strengths as soon as possible
How is the flavour so similar to disposable vapes?
We achieve this by using specially formulated double concentrate flavourings. These offer the same impactful hit disposable vape users enjoy but are held to proper safety standards unlike true disposable vapes which have been revealed to be less carefully regulated. If you want the taste and satisfaction of bar salts but with a safety guarantee you can trust, check out our range.
Are they suitable for vegetarians / vegans?
Just like all our other e-liquids, the bar salts range is suitable for both vegetarians and vegans – we do not use any animal products in our products.
Can they be used in all vape kits?