Wholesale

The perfect wholesale e-liquid range for your store
EDGE e-liquid is a premium shelf ready e-liquid range which will add real value to your business. Whether you want to add to your existing product range or find the perfect vape juice for your customers, EDGE is the perfect wholesale e-liquid offering for your customers.
We have invested heavily in our production facility, creating one of the most advanced e-liquid production sites in the industry. Our machinery is of the highest specification, our processes are ISO 9001 accredited and our workforce is highly skilled. It is our continual investment in quality in every aspect of the business that gives our clients confidence in our products.
Every member of the EDGE e-liquid team is committed to supplying you and your customers with the highest quality product at the most attractive price.
We offer a commitment to your business by giving you an unmatched level of support for the EDGE product range – we are the difference in a competitive marketplace.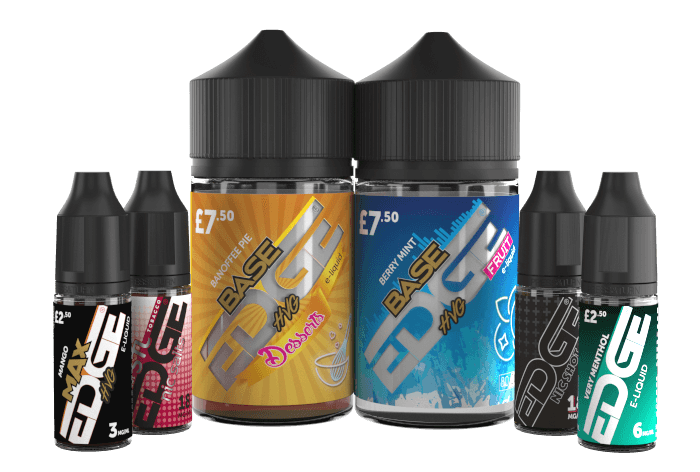 Get in touch with us today
We are committed to making the EDGE brand a success for your business.
We know each of our customers' businesses have a unique set of requirements. With this in mind, we've created a full range of point of sale materials, including posters, leaflets, product display units, window stickers and wobblers, perfect for use anywhere in your store.
We offer a level of support rarely matched by our competitors. Your success is the driving force behind all our activities.
Interested in stocking the EDGE range in you range in your store?
EDGE E-liquid is also available for wholesale through the Booker chain of nationwide distributors.