Wholesale Vaping Devices, E-liquids and Pods
Add true value to your business by partnering with EDGE, the UK's No1 e-liquid brand*. EDGE offers a comprehensive toolkit for building your ultimate next generation product offering, or to evolve and enhance your existing ranges to meet diverse customer demand and catalyse conversion.
EDGE represents the best in British e-liquid. Committed to quality, safety and service, all EDGE products are manufactured to the highest possible standards. We combine pharmaceutical-grade PG, VG and Nicotine with only the finest flavours from within our 60,000 sq ft ISO:9001 certified, state-of-the-art, entirely bespoke clean facility. Extensive research and development in conjunction with our own ISO 17001 accredited analytical laboratory capabilities allow us to deliver apex-quality e-liquids and patented hardware innovations to suit all tastes, from our award-winning core offering of best-selling 50-50 juices, to our mouth-watering large volume short-fill EDGE BASE and revolutionary HYBRID, GO and PRO devices.
The EDGE team is committed to supplying you and your customers with the highest possible quality product at the most attractive price.
Your success is our priority, and our commitment to your growth drives an unrivalled level of support to ensure your satisfaction - we are the difference in a competitive marketplace.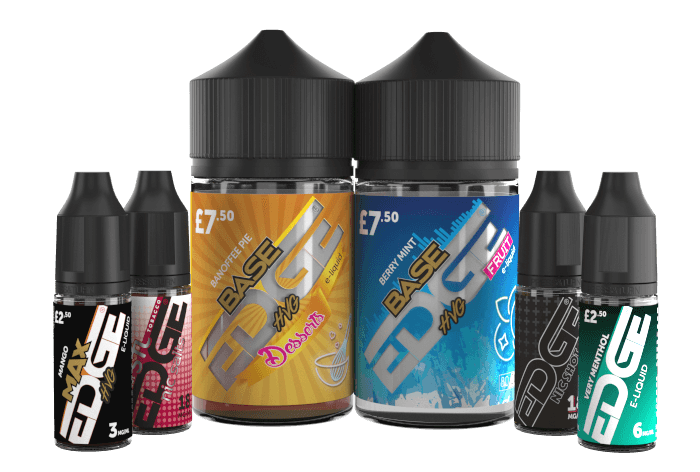 Get in touch with us today
We are committed to forging success for your business and EDGE.
Available in over 20,000 distribution points across the UK, with full support from our dedicated sales team and backed by a full suite of marketing and PoS materials from window stickers to backlit gantries, masterfully designed in-house by our talented creatives; we give our customers the power to invest with complete confidence, delivering fully compliant, premium quality products, every time
We offer a level of support rarely matched by our competitors. Your success is the driving force behind all our activities.
Get in touch by submitting your details via the button below:
The EDGE Vaping range of products are also available for wholesale through the Booker chain of nationwide distributors.