EDGE GO Pods
The EDGE GO vape e-cigarette pods have been specially blended to feel and taste just like traditional cigarette smoking, with the effortless convenience of disposable pre-filled e-liquid pods. You are sure to find an EDGE GO Pod to suit your exact needs within our huge range of high-quality flavours.
The GO Pods developed especially by EDGE are available in a range of nicotine strengths, suitable for all your vaping needs. With a choice of 6mg, 12mg or 18mg, you can find the perfect e-cigarette flavour with the exact nicotine strength you desire to satisfy your cravings.
Quick release magnetic locking means you can swap pods in seconds and carry on vaping right away, without faffing with coils and messy refills.
Take a look at our range of EDGE GO Pods below to find your next staple flavour. Shop today to make the most of our exclusive deal of free delivery on orders over £15.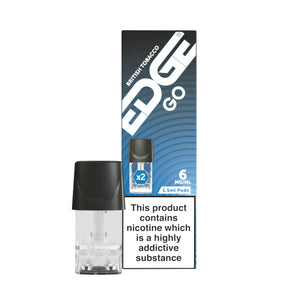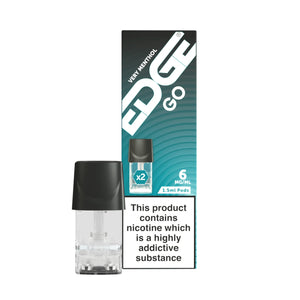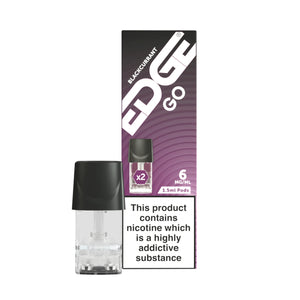 More about this range
Premium British and USA tobacco
Our British Tobacco flavour gives a true tobacco taste you'll recognise immediately, meaning you can fulfil your tobacco-taste needs daily, without a compromise on cost or quality of flavour.
Our USA Blend emulates the mellow roasted flavour of an American Lite cigarette for those looking for the recognisable smooth yet rich taste of US cigarettes.
Finally, our Very Menthol delivers a double-shot of ice-cool menthol flavour, uplifted with a crisp peppermint twist to complete our best-selling profile.
Our EDGO GO Pods are made from the highest-quality vegetable glycerol (VG) and propylene glycol (PG), so you can be sure to enjoy a premium taste with every puff, all day long.
One pack, double the pods
Our packs come with two pods of 1.5ml e-liquid, ready to be vaped for your enjoyment. The double pod pack means that you can quickly replace your old pod and continue vaping your favourite flavour with no downtime.
The pods are manufactured right here in the UK, using high-calibre production methods from our industry-leading manufacturing team. The pods have quick release magnetic locking, making it effortless to switch between pods, whether you need a quick refill on the go or fancy a change of flavour.
The sturdy 1.5ohm coil is specially designed for top-tier performance, ensuring you get the best out of your vape device with every puff, without having to worry about receiving a sub-par vaping experience.
A delicious range of refreshing menthol and sweet fruit flavours
If tobacco flavouring isn't your preferred choice, you have a huge range of fruity and sweet options too. For those looking to satisfy their sweet tooth craving, why not try our ever-popular Forest Fruits pack? If you are chasing a sweet taste with a hint of cool mint, be sure to take a look at our Mango Ice Menthol pod, combining the juicy fruit flavours with refreshing menthol.
Looking for regular e-liquid? Why not check out our wide range here.
More About This Range
Try something from our vape pod collection today to find your new vaping go-to. If you haven't found what you were looking for, be sure to browse through our extensive range of e-liquids, short fills, vape coils or top up on your favourite cartomiser.